Hop a Patio or More in Merchants Square
September 1st, 2022
In search of the perfect outdoor dining spot? Want to partake in a patio crawl with friends? With fall just around the corner, we can look forward to beautiful fall foliage and cooler days. With such perfect weather in mind, we've put together the best places in Merchants Square to enjoy a beverage or two while relaxing and taking in the vibes.
Jam Out with Berrett's Seafood
While known for fresh catches and excellent seafood cuisine, Berrett's also offers an exciting outdoor dining scene with live music every night from 3:30pm until 6:30pm. Spend time perusing their oyster happy hour menu while enjoying an expansive 80 bottle wine list, and specialty after-dinner cocktails like their chocolate martini.
People Watch at the Cheese Shop
Renowned for their legendary sandwiches and their gourmet products, the Cheese Shop has been a staple of Merchants Square for the past fifty years. But with a wine collection that spans the globe, expert wine staff to assist you with whatever wine you're looking for, as well as over 120 craft beers from their wine cellar, there's something new to try every visit. Pick your favorite drink and enjoy it on the Cheese Shop's patio which offers one of the best views in town of Duke of Gloucester Street, where you'll be able to people watch as visitors filter through the heart of Merchants Square.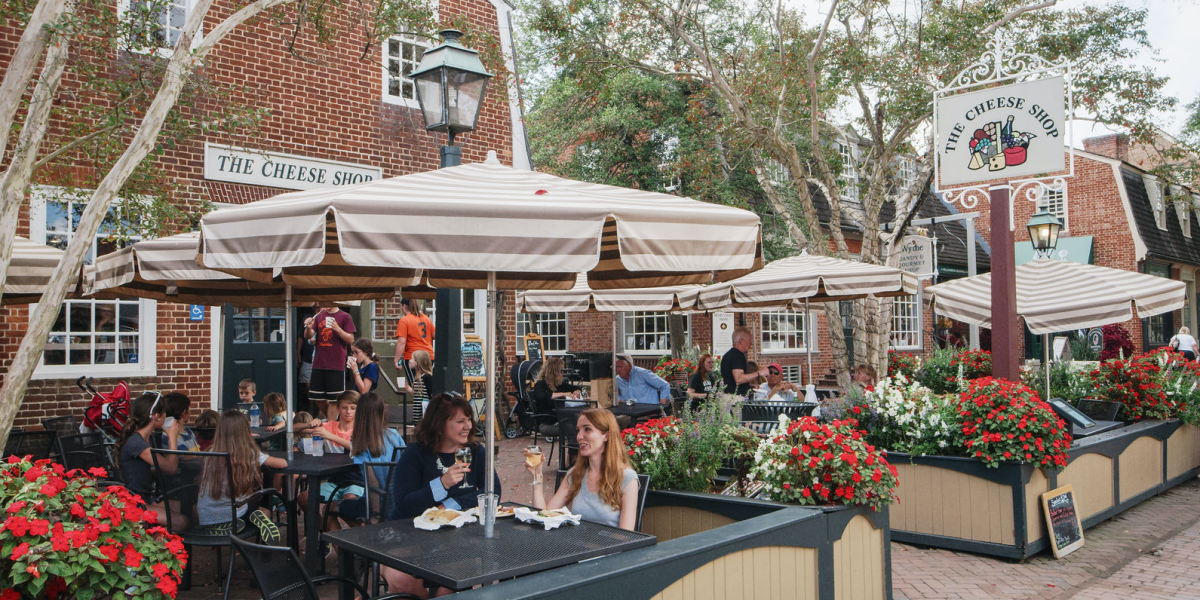 Class it Up at Fat Canary
Located directly next to the Cheese Shop, dine in (or outside) at the Fat Canary. Known for its modern take on old world cocktails, like its Fig Shrub Old Fashioned featuring Knob Creek Whiskey and Balsamic and Maple flavors or the Wright Brothers drink, featuring gin, luxardo, elderflower and citrus flavors. Classy meets comfort in its luxurious outdoor dining space, where you can pair these stellar cocktails with desserts like their dark chocolate mousse triangle or the Fat Canary's profiteroles.
Try Them All at DoG Street Pub
Known for its casual atmosphere and delightful bar noshes, take in the patio area off Duke of Gloucester Street. While you snack on food like their beer cheese spread or their Welsh Rarebit, enjoy local brews from cities and towns throughout Virginia like Richmond, Norfolk, and of course, Williamsburg. Plus, enjoy over 10 different beers and ciders on tap, as well as beer flights and tasters so you can try as many local specialties as you please!
Hop Next Door to La Piazza
Located just down the street from the DoG Street Pub, La Piazza offers up rustic Northern Italian fare, but the real standout for patio sipping is their house-made "Cellos", offering up different flavors like limoncello, orange, liquorice, and melon, these specialty liqueurs are the perfect way to cool off and enjoy some people watching on the patio. Look out for La Piazza's Cranberry Limoncello Cosmo which puts a refreshing twist on a classic cocktail.
Bring the Family to Mellow Mushroom
Mellow Mushroom may be one of our newer restaurants in Merchants Square, but it's the perfect place to enjoy some delicious food and drinks on the own patio. Choose from a selection of their Mystic Margaritas or their selection of sangrias. Even better? Enjoy some of their Magic Mocktails that the entire family will love, including favorites like Strawberry Lemon-Limeade, with their house-made lemonade. We recommend pairing them with their fresh, stone-baked pizzas.
Live Precariously at Precarious
No patio crawl is complete without a stop at Precarious Beer Project, located on the corner of Francis and Henry Streets. Offering an outdoor area complete with relaxed seating and a wraparound porch, there's plenty of room for everyone to enjoy as they sip on local and culinary-inspired beers that create amazing moments, flavors, textures and stories. Dip inside for some classic arcade games and two exciting eateries, featuring tacos and smash burgers.
Sip Back and Relax at the Williamsburg Winery Tasting Room
A satellite location of the Williamsburg Winery, this Merchants Square hidden gem features an outdoor wine garden that you'll want to relax in all day long. Offering five different wine flights, as well as wines by the glass and bottle, you'll be able to explore some of the best wines that the Williamsburg Winery has to offer.
When you shop or dine in Colonial Williamsburg's Merchants Square, not only are you supporting locally owned small businesses, but you are also supporting the educational mission of The Colonial Williamsburg Foundation, "That the future may learn from the past."